USA Today is not known as one of the most hard-hitting journalism outlets, and it's certainly not an area I expect to see WebRTC industry news.  So in what I assume must be a first, an article about WebRTC has made it to USA Today: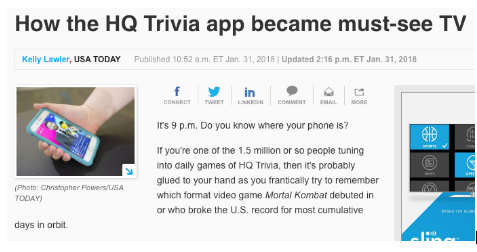 USA Today coverage is just one example of how the HQ Trivia app really is taking the world by storm, and has become a part of daily life for millions of people in the last few months.
In a world where more and more families are "cutting the cord" with traditional TV, it's easy to assume that our content future is all about on-demand videos on YouTube or Netflix.  In my house, our consumption patterns have gone that way for sure.  Most of the videos we watch are on our mobile devices, we have no cable TV, and we only gather around the television to stream a sports game live or watch the occasional movie together.
The HQ app is bucking that trend though and has proven that on-demand is not the only way consumers are willing to watch video anymore.
HQ is a live quiz game, which runs twice a day at 3pm and 9pm (Eastern US time zone).  By only broadcasting twice a day, they create scarcity and high demand for their content, because the quiz is always fun,
 it's time-boxed, and the live hosts are very funny.
Twice a day, my iPhone shows me a notification that HQ is about to go live, and
 I join in if I can.  It's the most social thing I use my phone for now, because some evenings my whole family will gather around the phone and try to team up to answer 12 really tough trivia questions.
As you progress from question 1 to question 12, they get harder and harder.  Our family has never made it past question 6, and the screen shot I've included here was from a pretty early question in the quiz recently that I got right (when in doubt, bacon).
There are now frequently over a million people who start taking the quiz.  The number drops as people are eliminated and go on to other things, but many of us enjoy the app so much that we stay to watch the rest of the questions even after we are eliminated.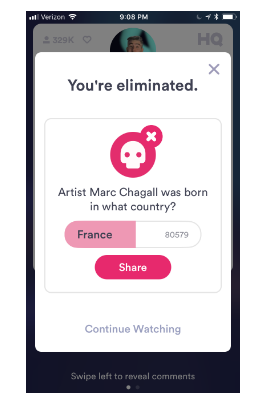 The fun is not only taking a live quiz with a million other humans worldwide, it's made much more engaging by the live video host who makes bad jokes throughout the quiz.
The live video is engaging exactly because it's live.  I've played other online games where there's a pre-recorded announcer voice, and that is fun too, but HQ's hosts will react to the questions live, call out usernames of people who joined, and list all the winners at the end.
Money is a major reason this is popular, not just live video. A pot of money is announced at the beginning of each broadcast, which usually ranges from $2,000 to $15,000 USD.  The winners split the pot, and even with a million contestants at the start of the quiz, there are typically only 100 or so who win.
At WebRTC.ventures, we love real-time apps and HQ is about real-time as you can get.  The questions must be sent to all users at once, and when the timer runs out, all players around the world need to see the same results shown at the same time.  This is a lot of real-time data exchanged between mobile devices and HQ servers from all over the globe.
In addition to keeping questions, answers, and timers all in sync, the video can't lag behind that data either.  When the host continues to talk after quiz answers are shown, their video can't be 30 or 60 seconds late like an HLS stream would be.  It needs to be real-time.
If any of those real-time behaviors fall, the usability of the HQ app falls apart.  If this happens too much then HQ will lose viewers.
In fact, the HQ app does fail pretty often.  As a viewer, I've seen the video lag for a second or go blurry many times.
In my case, it's never prevented me from playing the game and I've never been abruptly kicked out.  The video always catches up quickly to the question data and I'm able to finish the game.
Other HQ fans have reported worse experiences though. Some have complained on social media of being kicked out, unable to enter the app, or video delays so significant that they couldn't play.  Certainly these results vary based on the strength of their internet connection and their device, and we can't blame HQ servers for all of that.  
The viral growth of HQ is no doubt keeping their engineering team on their toes, and more than once a show has been cancelled or delayed from the expected start time in order to fix a technical glitch.
Despite all that, it's not driving many fans away yet.
The HQ hosts sometimes refer to fans of the app as HQTIES (where it's pronounced like "H Cuties"). During each show, the comments section is filled with people commenting on how hard the last question was, making fun of the answers, and celebrating personal bests when they make it to the next question.
Unfortunately, the HQ live chat section also looks a lot like the worst of the internet (ie, YouTube comments) – the funny comments are interspersed with racists and irrelevant political statements.  For my own mental health, I always swipe the comments window away in HQ so I don't have to look at them and I can just focus on the show itself.
I'm confident that HQ is showing the way forward for a new breed of app and entertainment experiences. With engaging hosts, a great quiz format, and artificially inflating customer demand (by limiting to 2 shows a day), the HQ team has scored a winner.  Other variants of this concept are sure to follow, and I hope that we will see more live broadcasting integrated into apps.
For HQ to survive, they will have to not only keep coming up with funny jokes and tough questions, they also have to minimize the technical problems.  As an HQTIE myself, I have already seen them drastically improve performance and their ability to handle millions of viewers.  My hat's off to them for a job well done, even if the job's far from over.
For the rest of us, we can celebrate HQ's success even if we're not in the gaming industry.  The more consumers gain confidence in live video over mobile devices, the more they will become comfortable with telehealth visits on their iPhone, virtual education study groups on their Android, and they will continue to cut the cable cord and watch their live sports from mobile devices.
Live video will only continue to grow as more of the world's population has access to high bandwidth mobile networks.  
Our team will be here to help you implement the best technical practices to take care of that.  The hardest part may be coming up with an app model that is engaging to users, and will draw millions of them to your app and your business.
Successful video experiences are about more than stable software, and we'd be happy to talk with you about the technical as well as the business aspects of making your ideas a huge success. Feel free to contact us.
Arin Sime is CEO and co-founder of WebRTC.ventures, a leading provider of real-time application and WebRTC development services.  He has worked with enterprises and entrepreneurs around the world in a variety of industries.  An engineer by background and an entrepreneur by passion, what excites Arin is the sheer joy of product creation and seeing someone's ideas come to fruition.