Last week, we spoke about the skills and roles WebRTC.ventures can bring to your live video project when Hiring a Development Team. Today, we'll continue that conversation with more about what happens after you hire us: contract models, our agile development process, and timelines.
You can get all the information in both posts in one WebRTC Tips by WebRTC.ventures YouTube video. Or, read on:
Contract Models
We can build the complete application for you if you don't have an internal development team. Or, we can work side-by-side with your technical team to augment their capabilities with our video expertise. We are equally happy in both roles!
Our developers are generally dedicated full-time to one client for the length of their project. Other team roles (if needed) may split their time across multiple clients at once, such as a project lead or Scrum master, UX/UI design leads, DevOps, and QA/testing.
While our company is primarily focused on custom application development for our clients, we are available for consulting and assessment engagements when our schedule allows.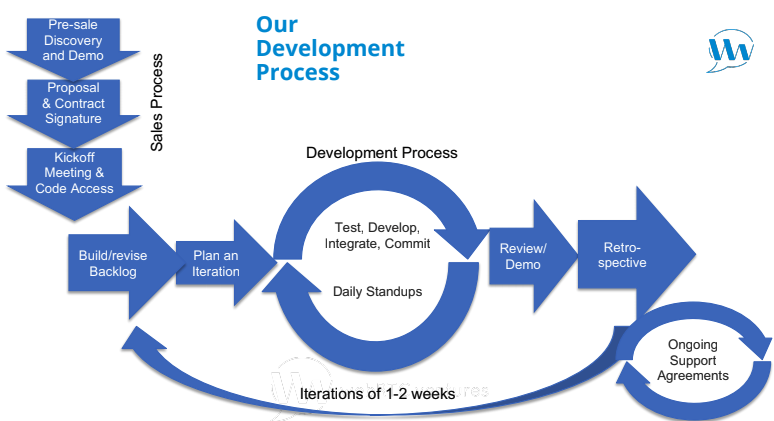 Initial Phase: Getting to Know You
Pre-Sale Discovery. If we are building WebRTC into something you already have, this will naturally include your team giving us a full demo so we can get to know your product.
Proposal and Contract Signature
Kickoff Meeting and Code Access
Development Phase: One Week Agile Iterations
Agile development is in our blood. Before we specialized in WebRTC technology in 2015, our company was known as AgilityFeat. We were early leaders in applying agile methodologies to nearshore software development in Latin America. I spent many years as an agile coach and I believe deeply in the process. If you're interested in learning more about agile development, you can check out this series of videos I did back in 2014.
We will follow a very agile process with you utilizing periodic iterations and frequent demonstrations, paving the way for continuous collaboration and improvement.
This is one of the reasons we generally only hire developers within a time zone or two of our own–so we can work as collaboratively as possible. Whether you are in our time zone or not, we will follow this model and keep in close contact with you.
Before we get started, we ask that you designate a member of your team as the Product Owner. The Product Owner should be able to clearly articulate your feature needs and participate in regular demo sessions with our team.
We usually work in one week agile iterations. The maximum is two weeks. We prefer one week so we can keep in as tight communication with our clients as possible. At the end of each iteration, our team will demonstrate their progress and provide an opportunity for you to give feedback on the features as they are being developed. Communication breeds success.

A typical agile process flow is based on the following steps:
Build/revise Backlog
Plan an Iteration (also known as a Sprint)
Daily Standups (typically on Slack or by video chat)
Review/Demo
Retrospective
After the Development Cycle
During the development phase, we will set up and maintain all the necessary server hosting and other accounts needed for your application. After the application is complete, we can either continue to maintain those servers for you or turn them over to your technical staff.
Similarly, we can enter into ongoing support and maintenance agreements, or leave you to your own devices. If we are augmenting your existing staff and working side by side, you can be sure that we've been sharing our knowledge throughout the project lifecycle. Your team will be up to speed on everything we've done so you can take over management of the video component going forward, if you choose.
Timeline and Costs
Quotes and timelines vary within every application. However, it is pretty common that building a WebRTC application from scratch takes at least three months to initial deployment. Initial deployments are typically a first version or MVP that can be used with actual customers, but may still not include all the features you'd like to have eventually. This type of project usually costs about $50,000 – $100,000 US to get to that initial deployment. The costs will vary, of course, depending on what you need and whether we are augmenting your team or working on our own.
Ready to build?
We'd love to hear about your application ideas. Contact us today!