2020 looks a lot different than any of us imagined. We're staying home, working from home, cancelling our trips, and rethinking our plans and processes. In the workplace, the global health and economic crisis has caused uncertainty for company leaders. How will my business adapt and survive? How can I keep my team and customers safe?
Chances are that you pivoted to remote work. Common video conferencing and messaging tools allow your team to collaborate remotely and work from home. But if you had an event planned for 2020—a conference, panel, networking session, concert, or something else—what should you do now?
If you have an event planned for 2020, it's time to make it virtual. Not only will you still be able to hold your event, but you'll also make it more accessible to your audience by hosting it online. Your audience will save on travel costs, and you may even gain more registrations by holding your event in a more flexible way!
What to consider when choosing a virtual event tool
Easy-to-use design
The platform for your virtual 2020 event should be simple and intuitive. You don't want your audience to become lost and confused! Users should find the platform easy to access and navigate. Consider using a browser-based platform that doesn't require any downloads or installations.
Features
What features do you need for your event? Not all virtual event tools offer the same features. You may need basic features like recording, commenting, messaging, and analytics reporting. Perhaps you even need more advanced features such as embedding and integrations with social media channels and third-party platforms.
Security
Security is crucial for your virtual event. Your platform should be safe and secure for all users, especially if it streams live video or includes payment processing. Select a secure platform that won't allow unauthorized users into your virtual space.
Interactivity
What's missing from common live streaming, webinar, and event tools? True interactivity. Though many platforms allow users to comment and ask questions, this doesn't allow for the rich interaction we experience at conferences and networking events. Facebook Live, YouTube Live, and Zoom don't allow you to "bump into" others, walk through exhibit halls, speak to vendors, and engage in true networking remotely.
Interaction is a crucial part of an event experience. It allows your audience to form new connections that can potentially elevate their organizations. While this interaction isn't fostered on common event tools like Zoom, you can still bring true interactivity to your virtual event. Here's how:
Interactive Broadcasting by WebRTC.ventures
If you're ready to make your event virtual, WebRTC.ventures can help. Our interactive broadcasting tool is the perfect solution to make your upcoming event virtual, secure, accessible, and truly interactive for your viewers.
With an interactive platform, you'll provide a much more enriching and engaging experience for your audience than you would if they were simply watching recorded video or a Facebook Live or YouTube Live stream. Make your virtual event one they'll remember during the rest of their virtual events this year.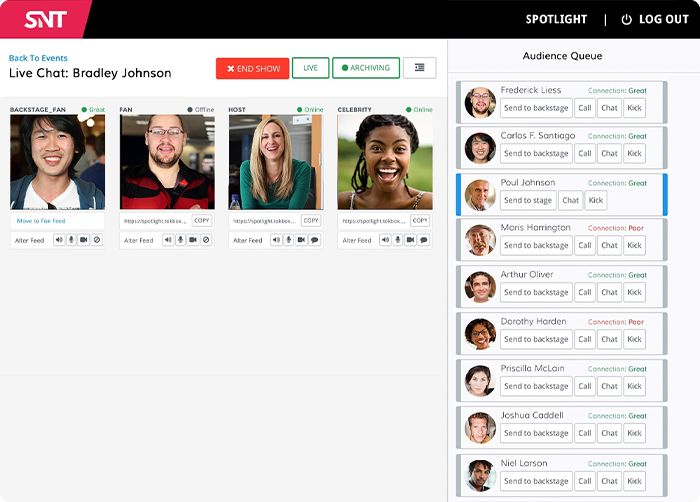 Let's get started!
The WebRTC.ventures team is ready to create your custom interactive event platform. With decades of experience in web application and software development, over 200,000 hours invested in building real-time applications, and global recognition as WebRTC experts, they're here to turn your vision into a reality. Ready to make your 2020 event virtual and interactive? Contact us today!