Have you checked out our new WebRTC Development and Telehealth Solutions Client Successes pages? They highlight some of the custom development work we've done for our clients. Every few weeks, we'll highlight one of our client successes right here on our blog!
Telemental health for accessible mental healthcare
Wellbeing Consult saw a need to leverage technology for greater mental health care access in Australia. They turned to our team for help with designing and building their custom platform. They needed:
A secure telehealth application
Live video appointments
Directory of mental health providers with search functionality
Appointment scheduling
Secure messaging and file-sharing
Live user presence
Billing and payment processing
We designed and built a secure and responsive web application with an intuitive design, secure authentication, and backend APIs. We used WebRTC, Ruby on Rails, Pubnub, OpenTok, and Stripe. We also used AWS for automatic deployments, creating an efficient deployment process. Additionally, we worked with Wellbeing Consult to create branding that represents their innovative work and company values.
Wellbeing Consult's feedback about working with WebRTC.ventures
We spoke with Dr. Marty Brewster, Founder of Wellbeing Consult, to get his feedback. Marty had this to say about their experience working with us: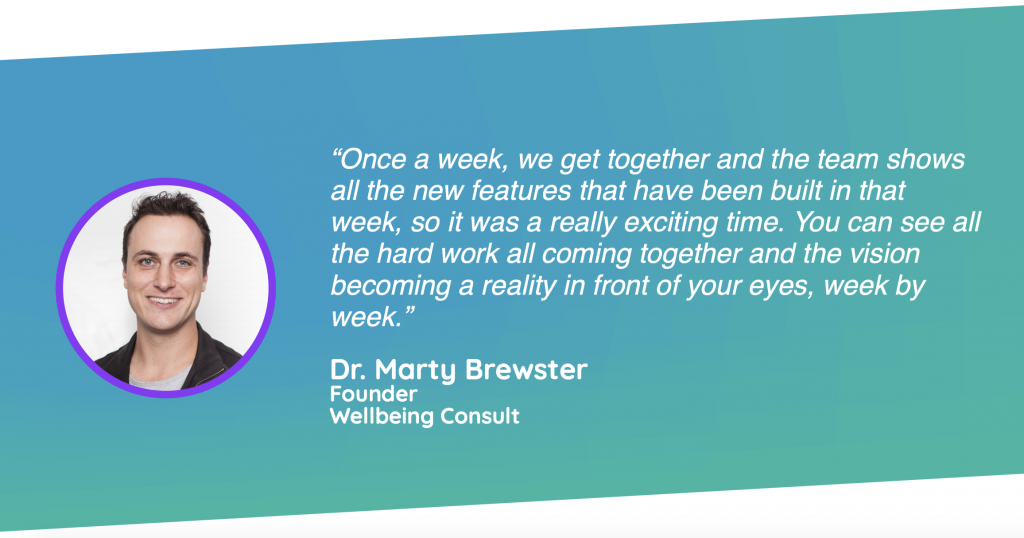 "Once a week, we get together and the team shows all the new features that have been built in that week, so it was a really exciting time. You can see all the hard work all coming together and the vision becoming a reality in front of your eyes, week by week."

Dr. Marty Brewster, Founder, Wellbeing Consult
Marty gave us great ratings for both their experience working with us and our ability to solve their pain points. They even received overwhelmingly positive feedback when they displayed their telemental health platform at a large mental health conference in Australia. Want to learn more? Click here to download Wellbeing Consult's case study!
---
Do you need application design and development services for your business?