We talked last week about how broadcasting applications can benefit businesses in various industries. Now let's discuss some use cases for Interactive Broadcast Solution, WebRTC.ventures' customizable broadcasting tool.
What is Interactive Broadcast Solution?
Interactive Broadcast Solution is WebRTC.ventures' broadcasting and live streaming application. It allows you to create events and broadcast them live to a large audience. If you're holding an event remotely or would like to share with others who can't attend in person, Interactive Broadcast Solution is the tool for you!
The application doesn't require any downloads, so it's easy for your participants and audience members to use. You remain in full control of your event with backstage producing and moderation. You can stream directly to Facebook Live and YouTube Live and embed the broadcast in any web or mobile application, and we can add your logo and brand design.

Our favorite part about Interactive Broadcast Solution is in its name: it's interactive! Instead of simply watching a live stream, viewers are able to participate. With the click of a button, a viewer can indicate that they'd like to join the presenter and guest on stage. Let's take a look at how this can be beneficial in different scenarios.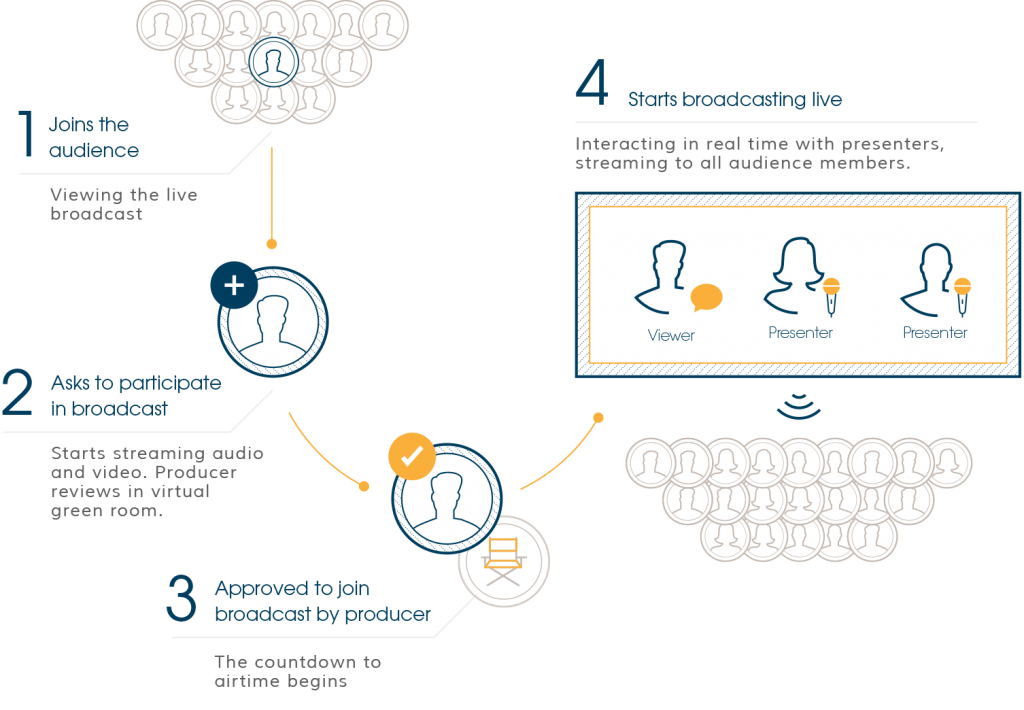 Live stream group or panel discussions
Want to hold a discussion on a topic in your field or industry or stream a popular panel at your annual conference? Our broadcasting app makes this easy and convenient! Your participants can tune in from all over the world, and your viewers can easily share their thoughts and questions live. Interactivity makes your events more personal and encourages your audience to follow closely and even participate themselves.
Broadcast interactive educational series
Organizations often share information about important topics during awareness days, weeks, and months throughout the year. The purpose of this is to spread awareness about things like medical conditions and health issues. Interactive Broadcast Solution is a great way to stream educational content to a large audience and allow them to share their insight and ask questions to the presenters.
Host trainings remotely
If your company or non-profit organization holds trainings for employees or community members, consider using Interactive Broadcast Solution to offer your trainings remotely! This removes travel and lodging costs and allows more people to participate. Presenters are able to share their screens with the audience, so it's just like giving a presentation in person.
Ready to get started?
We have an experienced team who will build your custom broadcasting tool the way you want it. With decades of software development experience, over 200,000 hours invested in building real-time applications, and global recognition as WebRTC experts, you can trust our team to create a solution that meets the unique needs of your business and use case. Contact us today!