It's important to consider the full scope of functionality that you want your telehealth application to implement. The must have features in telehealth applications differ based on how you want your application to function.
Building it in multiple stages is usually the preferred method to control costs and reduct the implementation timeline, but it's still a good idea to consider everything you'll want in the application eventually.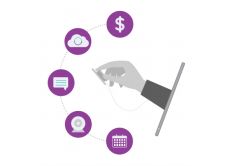 Here are the most common features our clients ask for in telehealth applications :
1-1 video with the patient
Ability to optionally record the video session
Text chat
File transfer
Payment integration for credit cards, or via an API to other payment systems
Capture still images from videos for saying with the patient files
SMS notification of upcoming calls
Calendar integration to schedule appointments with the care provider Virtual waiting rooms
Integration with Electronic Medical Records systems for storage of images, files, notes from the consultation
Adding 3rd parties to the call (other family members in different locations or a remote expert)
Integration of other data streams into the call from local medical devices
Additional video streams for local exam cameras
Want to learn more?
To find out more about common webRTC use cases and how webRTC can be used further to develop telehealth click here.
Think a Telehealth Solution may be right for your healthcare business?
We have a telehealth platform that is already built and can be quickly white-labeled and licensed for your use.  We have decades of experience with over 200,000 hours invested in building real-time applications. You can read a client testimonial here.
Contact us today. We'll help you get your user-friendly, HIPAA-compliant app — up and running with both the provider and patient in mind.