Medical wearable devices are everywhere, and it seems that they're here to stay.  A recent study shows that for 2022, its market will grow to USD 14.41 billion. But how and where do they fit into Telehealth? We will cover telehealth and wearable devices in this article, and most importantly, what can they do for your telemedicine solution and healthcare business.
A wearable device is an electronic gadget that can be worn on the body, and monitors health indicators. Smart watches are a typical example of a wearable device.
One of the key factors about the growth of the wearable device industry is its rapid popularity increase among users. It is not unusual to see people using their smart watches while exercising to track metrics like the distance and the number of calories burned.
The interesting part is that all these metrics are calculated by the device itself without having someone manually track them. Additionally, what makes them even more valuable is the fact that the collected data can also be available on their smartphones or synced with cloud services.
Types of Telehealth Services
What is the first thing that comes to your mind when you think about telehealth? Probably something like the image below.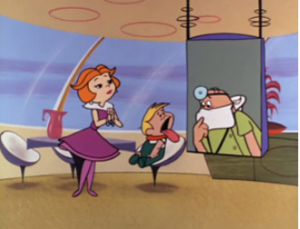 Despite how cool the image may look, the truth is that telehealth is more than just face-to-face, no matter the place's medical consultation capabilities. But that telehealth also creates the possibility to extend healthcare services outside of hospitals and clinic boundaries.
According to the Center for Connected Health Policy (CCHP), telehealth services fall into four main categories:
Live video (synchronous)
Store-and-forward (asynchronous)
Remote patient monitoring (RPM)
Mobile health (mHealth)
Wearable devices take a lead role in Remote Patient Monitoring (RPM), which consists of collecting health and medical data from a patient in a remote location.
A typical example of the usage of wearable devices in RPM is when a patient has been admitted to a hospital, and then is sent home after the treatment is done. Most wearable devices include sensors that monitor all kinds of vital signs, from heart rate to skin temperature, and thanks to the magic of Internet of Things (IoT), these devices provide the possibility to track their recovery process remotely.
Telehealth is a solution to high readmission rates.
In other words, wearable devices are not intended to replace healthcare providers services, but to provide them with valuable medical data for better diagnoses and treatment plans, as well as to reduce inefficiencies and waste in the healthcare system.
Wearable devices are also potentially useful in the treatment of chronic diseases. In 2015 TADHack, WebRTC.Ventures won the Telestax award for an Apple Watch app that monitors heart rate (and other metrics) and in the event of a heart attack; it notifies via SMS and a text-to-speech phone call to patient's relatives.
Increase Patient Engagement and Reduce Costs
Nowadays, we live in a busy world. People are occupied andsometimes tend to ignore their health and fitness. One of the reasons for this is the number of processes involved in seeing a traditional doctor: several tests for diagnosis, prescription and finally a treatment.
People often see a doctor only when it is necessary, or worse, when it is too late.
It's in this scenario where wearable devices can really change the picture, as they provide a way for users to be able to continuously monitor several health metrics and give timely insights on various parameters, which are valuable to their physicians as well.
In this regard we can assert that self-health monitoring and preventive medicine requirements are increasing.
In this same way, in a country with a health system that spends more per capita than any other developed country, healthcare providers are looking for ways to reduce costs, and telehealth seems to be a popular alternative.
Wearables devices and their remote monitoring capabilities integrate efficiently with telehealth, empowering patients to take control and monitor their own health. A proper implementation of these tools can help move from a reactive to proactive healthcare approach.
Considerations
Currently, most wearables devices are widely employed in fields like individual wellness and fitness, providing a useful tool to many people. However, to gain major relevance in other telehealth areas, it is necessary to polish some of the rough edges.
In order for the health community to begin to rely more on the information that these devices offer, it is recommended that such information be provided in a way that can be integrated with their current workflow and in formats that are compatible with the tools that they use.
Also, action must be taken to avoid the information falling into unauthorized hands. The security of the data is crucial to the success of wearable device's implementation.
Finally, special attention must be paid to the accuracy of the metrics that are collected. Information provided in a secure and convenient way is not worth it if it is not an accurate reflection of a patient's health status.
Wearable device vendors must ensure that their products provide quality, secure and accurate data, and the same applies for companies that develop the software for them.
Conclusion
Wearable devices are a powerful tool for Remote Patient Monitoring modality of Telehealth. They help to expand care services outside of hospitals and clinics facilities, while also reducing costs for providers.
The key factor for their success is that the information they provide be relevant enough, provided in a secured manner, and accurately reflects the patient's health status. Despite this and the considerations mentioned above, it is possible!
Learn More
We have created a free educational eCourse. It is your guide to building telehealth apps with WebRTC video technology that are HIPAA-compliant.
Each week of the series, you will receive an email to your inbox with a downloadable eBook.
Ready to Build your Telemedicine Solution?
Let our experts at webRTC.ventures help you build your custom video and audio telemedicine app. We have decades of experience with over 200,000 hours invested in building real-time applications. You can read a client testimonial here.
Contact us today. We'll build your user-friendly, HIPAA-compliant app — designed with both the provider and patient in mind.