Welcome to our telehealth starter kit blog series! For the rest of the summer, we'll focus on one feature of our telehealth starter kit in a new post each week. We'll explain why each feature is important and how it can benefit your providers and your patients. Today, we're talking about payment processing. We make billing secure and easy.
Billing on the professionals' side
Session prices can be set in two ways: (1) Professionals can set their own prices in the same place that they edit their profile or (2) administrators can set a flat price (or lack thereof) for all professionals on the platform. Professionals receive payment to their PayPal accounts. You may also choose to provide free services or to handle billing outside of the platform.

Payment on the patients' side
We require patients to select a payment method before they can submit an appointment request. After selecting their preferred appointment date and time, they will be prompted to enter their payment information. They can pay for their sessions with a credit card or PayPal account. We accept all major credit cards.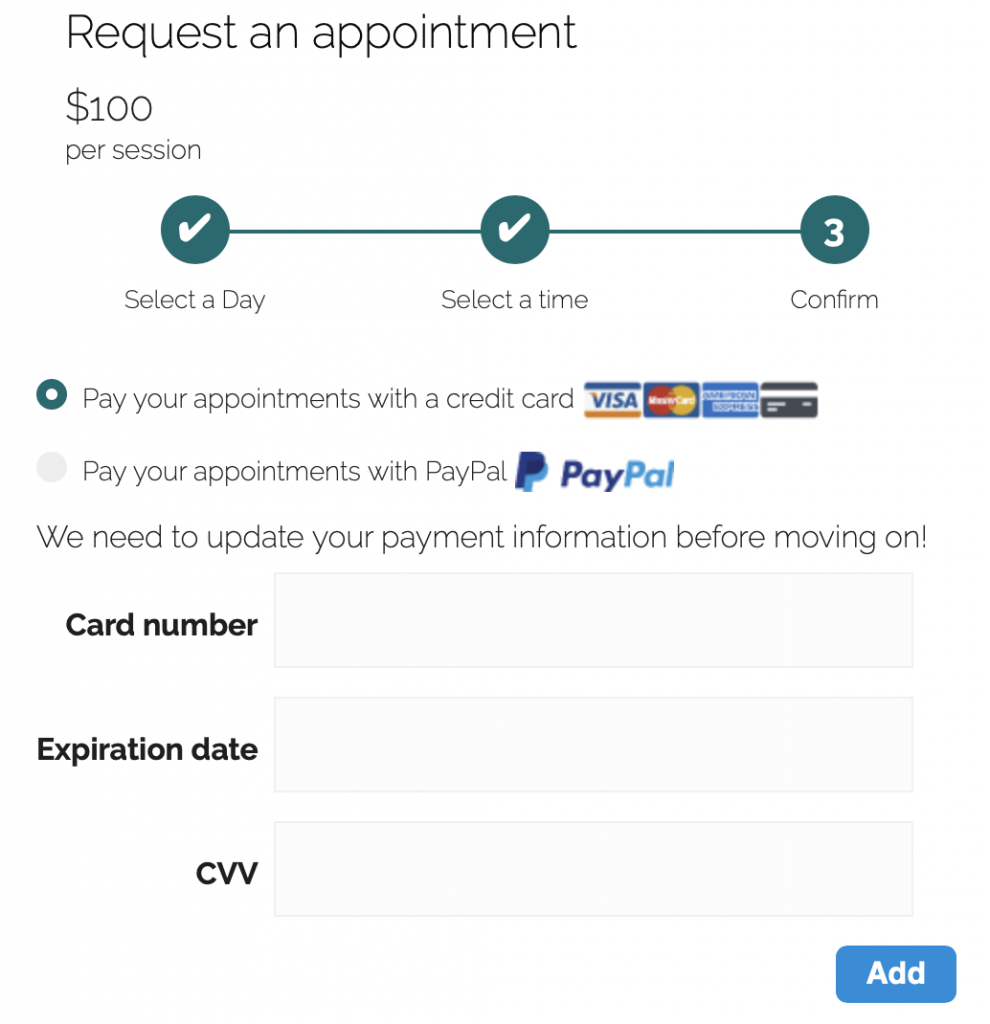 Once a patient enters their payment information, the system allows them to submit their appointment request. The patient will not be billed until the time of the appointment. If either the patient or the professional cancels the appointment, the patient will not be billed.
Customizations
The best part of our telehealth starter kit is that it can be customized to the unique needs of your healthcare organization. For example, we can disable payment processing if you'd like to handle billing outside of the platform. If you'd like to add another payment-related feature, reach out to us!
---
There you have it! Our telehealth starter kit makes it easy for you to handle billing directly in the platform. Be sure to tune in next week as we discuss our next feature!
Unsure about telehealth? Click here to see why medicine is leveraging technology to increase healthcare access.
Want to learn more about our starter kit? Click here to check out the rest of the posts in this series.
Ready to get started? Contact us to talk to our team about what our telehealth starter kit can look like for your healthcare organization!