When Train-With's founder, Rachel Aram, decided to create a platform which provides one the ability to take a group fitness class or train with a favorite trainer regardless of time and location, she turned to the WebRTC.ventures team to get professional help in developing and launching her mobile live video fitness training application.

Here's an example of how Train-With can be used — you are traveling, or you move to another state but still want to work out with your former fitness class or trainer, you can still do that remotely right from your tablet or phone.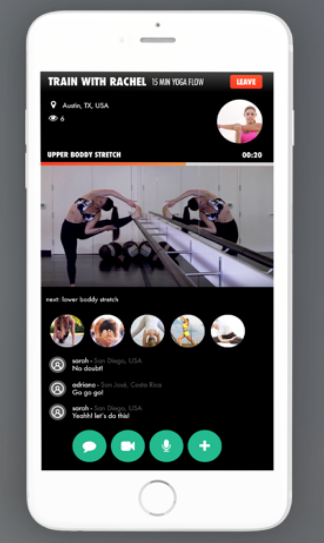 "I had a lot of options of developers in the San Francisco Bay Area but wanted a cohesive team of experts in live streaming technology; so I chose webRTC.ventures", said Aram.
WebRTC technology was chosen for this application because Aram wanted two-sided, peer-to-peer capabilities. In other words, the participant can see the instructor and the instructor can see the participant. The instructor also has the ability to turn on the live stream and provide encouragement, suggestions, etc.  
Therefore, finding a globally recognized team with much webRTC experience was crucial in order to successfully see Aram's Train-With vision come to fruition.
"I have been thrilled at the professionalism, expertise, and quality webRTC.ventures provided Train-With", concluded Aram.
Would you like to build a Live Video Application?
Are you interested in building your own live video application using WebRTC? Or maybe a different type of real time communications application? Contact our team today!