Get on board the Video Consumption Digital Transformation. MySportsBox.video is a customizable application for sports channel networks looking for an alternative way to distribute sports video content and reach their viewers.
We saw an opportunity to build a better experience to watch video on-demand in a new way by building custom apps, on top of the leading platform in the market: Amazon Alexa.  
Our app focuses on screen enabled devices which sports fans will love in order to engage with their teams and favourite sports!
Get early MySportsBox access and information here (you can even watch a demo video)!
Today, the MySportsBox.video product is publicly available.
We believe that video distribution to IoT devices, such as Amazon Echo smart speakers, has the potential to change and reorganize the way viewers watch video. While in the past most of the video we watched was from the TV and movie theatres, today it is easy to see a growing trend to a more distributed video consumption.
Now people want to watch media content anywhere and anytime. While they travel, work, do the dishes, prepare dinner, or just hang out.
Reach Your Audience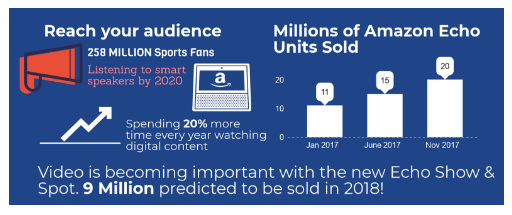 Customize your App for your fans


An Experienced Team of Sports Fans

Having already built IoT and sports broadcasting applications, we know about the importance, for the teams and sports networks, of providing to their fans the best experience possible. After playing around with the Amazon Alexa platform we thought we could build a broadcasting service  that combines our sports passion and video expertise.
Today, fans are following Youtube channels, Twitter and Instagram accounts. But there is a new opportunity to give your fans a new more convenient channel for them. An easy way to just follow a match or keep up to date with the latest highlights anywhere they want. With MySportsBox.video we are giving you an easy way to keep your fans engaged and at a very small cost!
Contact us at sales@mysportsbox.video or just sign up at mysportsbox.video to watch a demo video and learn more. Or, if you can't wait to test it out, you can try our basic demo implementation for watching WebRTC.Ventures talks saying: "Alexa, enable webRTC Talks".