Welcome to our telehealth starter kit blog series! For the rest of the summer, we'll focus on one feature of our telehealth starter kit in a new post each week. We'll explain why each feature is important and how it can benefit your providers and your patients. Today, we're talking about the two review features on our telehealth platform: professional reviews and call quality reviews.
Professional reviews
Allow your patients to choose a provider based on other patients' anonymous reviews. Seeing positive reviews can make selecting a provider easier, especially when their usual provider is unavailable.

If you decide that you don't want professional reviews on your platform, you can turn them off with the click of a button.
Quality reviews
Submit feedback directly to us about the quality of your virtual appointment! At the end of every appointment, both the provider and patient are prompted to submit a quality review. These reviews come directly to us and help us improve your call quality.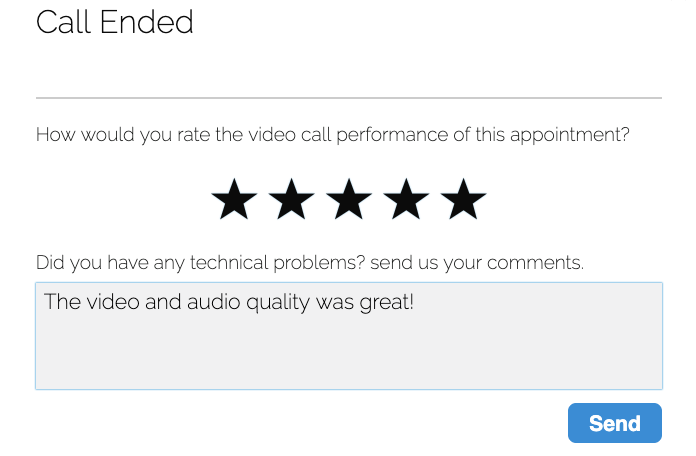 Customizations
The best part of our telehealth starter kit is that it can be customized to the unique needs of your healthcare organization. If you'd like to customize anything else regarding the review functionality, reach out to us!
---
There you have it! Our telehealth starter kit makes it easy to turn professional reviews on and off and to submit direct feedback about your call quality.
Unsure about telehealth? Click here to see why medicine is leveraging technology to increase healthcare access.
Want to learn more about our starter kit? Click here to check out the rest of the posts in this series.
Ready to get started? Contact us to talk to our team about what our telehealth starter kit can look like for your healthcare organization!