Henry Ford was once quoted as saying, "The two most important things in any company do not appear in its balance sheet: its reputation and its people".  You know what we do at webRTC.ventures — we bring people together by closing geographical gaps using real time communication. However, you may not know WHO we are…that is until now. Each week, we are going to introduce you to a member of our team. This week we would like to introduce you to Germán Goldenstein, Developer Evangelist.
Germán is from Buenos Aires, Argentina and has been working in the software development industry since 2002. In 2008 he started his own software factory developing web and mobile apps for companies such as McDonald's, Ford Argentina and more. In 2015, he started to work at WebRTC.ventures, beginning his career as a developer evangelist and technical leader.
Germán is also one of the core developers of Interactive Broadcast Solution, one of TokBox's products. He writes technical articles, has spoken in several WebRTC conferences such as WebRTC Argentina and Kranky Geek Sao Paulo, and is the editor of RealTimeWeekly. He loves to participate in hackathons and has received prizes from Troppo and VoxImplant in TadHack 2016 in New York.
Read Our Interview with Germán Below:
How do you spend your day? 
Germán: After dropping my daughter off in kindergarten, I spend most of my day where I love to be, extremely close to the code. Coding is like my oxygen, after a while of doing other types of work I need to get back to it as soon as possible! I'm always involved in development and I also spend time searching new technical material in blog posts and tutorials of WebRTC and Real-time development. I do this to learn cool new things and share them in our developer community, RealTimeWeekly.
What do you do when you are not at work?
Germán: I spend a lot of my free time with my family especially playing with Julieta, my four year old daughter. On weekends we go to a country club near Buenos Aires City, where we spend time between being with friends, sport activities, rest, reading and of course never missing an Argentinian barbecue! (Germán with Julieta below)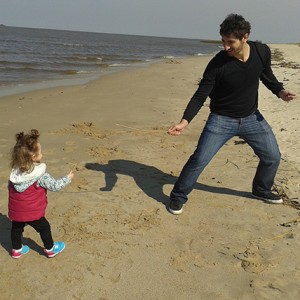 What was the idea behind starting Real Time Weekly?
Germán: Essentially what we aim to do is create and expand a community of developers focusing on real-time technologies in general, and WebRTC in particular, which is what interests us the most. We know that while you are busy doing your daily work, it's difficult to spend time searching and learning new things, and sometimes you get to reading the tutorials and articles a little late. We believe that RealTimeWeekly is a collaborative way to keep us informed about the latest news in development. That's why we are always happy to share in the newsletter all the technical articles that our readers send to us.
How did you start at webRTC.ventures?
Germán: Before I started working at WebRTC.ventures, I was mainly dedicated to the development of e-commerce sites. Although I was doing very well, it was really boring. I wasn't able to find anything interesting or challenging in that industry in terms of technology. When I started working at WebRTC.ventures I discovered a new world, new technologies, and impressively talented people from whom I learn every day, and I couldn't be happier with the culture of the company.
What interests you most about webRTC technology?
Germán: Breaking the physical distance between people by embedding the video & audio communication on the web is a success in itself. Everyone can see the benefits of this technology when talking with family that lives far way via video-chat, or having a meeting with a work colleague while being in different places or time zones via collaborative tools. The apps that we can build from the engineering point of view are really impressive, such as telehealth. This adds an unparalleled value by taking the user experience to another level.
To learn more about Germán and the rest of our team, click our link here.