Henry Ford was once quoted as saying, "The two most important things in any company do not appear in its balance sheet: its reputation and its people".  You know what we do at webRTC.ventures — we bring people together by closing geographical gaps using real time communication. However, you may not know WHO we are…that is until now. Each week, we are going to introduce you to a member of our team.  This week, we want you to meet Arin Sime, CEO & Founder of WebRTC.ventures.
Arin is co-founder and CEO of WebRTC.ventures, which grew out of the software development company AgilityFeat that Arin founded with David Alfaro in 2011. Arin started his career as an Electrical Engineer but switched to internet software development in 2000, and since that time he's led development teams and consulting engagements at small startups, Fortune 100's, and everything in between.
He holds a Master's degree in Management of Information Technology from the University of Virginia, where he also teaches seminars on agile software development methodologies. Arin has spoken at technical and business conferences around the US and Europe on topics ranging from WebRTC to Agile Engineering and Lean Startups. (Below Arin speaking at a conference in Boston).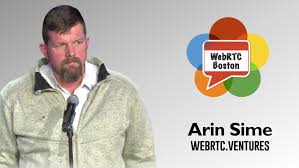 Read our interview with Arin:
Why did you start webRTC.ventures?
Arin: I've always enjoyed building software – helping someone bring their ideas to life and enable their business is very satisfying to me.  WebRTC.ventures was originally started as a more generic software development agency called AgilityFeat.  Over the course of a few years of work, we saw common threads in the types of applications we were building:  real time communications, live video, and connecting people with their work regardless of where they live in the world.  When I first saw a Google engineer talk about the new WebRTC standard for in browser communications, I knew that this was a niche we could become world experts in.
When it comes to the company, what are you most proud of? 
Arin: Many people see today's internet as a negative, as dehumanizing our society.  Instead of meeting up with our friends in person, we have more artificial interactions with them over social media.  Ironically, the internet has depersonalized our world in many ways, allowing people to silo themselves off from others who are from different cultures or different parts of the world.
I feel like WebRTC video technology can help bring humanity back to the internet.  I love that we build applications that help people to get what they need and connect with others no matter where they are located, and regardless of their means to travel.  Whether that's connecting with a colleague on another continent, or having a remote medical visit with your doctor without having to drive to their office, I believe that video can bring human connections back to the internet, and that's something our culture desperately needs.
We've built up a team of developers and designers across North and South America, serving clients around the world, and so the idea of remote work has always been interesting to me.  We've specialized in WebRTC video applications because of my fascination with remote work and our interest in video technology.  WebRTC video technology is literally bringing people closer together and breaking down barriers to communication.  I'm very proud of how remote work has allowed myself and others on our team to work from wherever we want, and to experience more of the world and each others' cultures.
How do you spend your day? 
Arin: I started my career as an electrical engineer and then later an internet software developer.  At this point in my career, my day does not involve programming anymore. I spend my days doing a combination of sales work, business development, contract and legal work, and keeping up with the finance and accounting side of our business.  I also do a fair amount of travel to attend technical and business conferences, or to work with our team and meet clients in person.  Although I'm able to delegate a lot of the details of those roles, it's important that I keep a pulse on everything in the business so that I can continuously improve our strategy to adapt to a constantly changing business and technical landscape.
What do you do when you are not at work?
Arin: The life of an entrepreneur is always stressful, so I try to keep healthy both mentally and physically with a combination of CrossFit and jogging.  My wife Lauren and I often spend weekends at our sons' sporting events, where they are rowing crew or playing basketball.  When we can, we love to travel together as a family, either to a beach in Latin America or going hiking and camping near our home in Virginia. We lived in Costa Rica for a year while running our business and I'm looking forward to living in Central America again in the future.  As much as I love technology and the internet, I also believe in balance, and so I'm at the most peace in life when I'm backpacking in the mountains with no internet at all. (Arin traveling with his family below).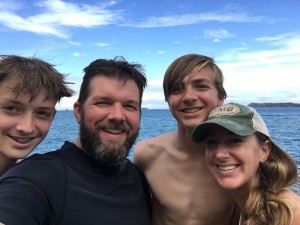 To learn more about Arin and the rest of our team, click here.