Exciting Opportunities in the WebRTC Industry
Software developers and those who intend to become developers have surely noticed the advance of WebRTC and identified it as a likely source of project orders. There are several positions for people who know how to work in this field, although many projects involve people who are experts at one or more of the components that go into a completed app. Some of the most important skills that are used on WebRTC projects include mastery of signaling, backend development, frontend development, and overall app development.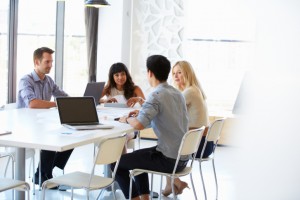 Even in this general landscape, there are currently several positions that are specifically for WebRTC projects. Therefore, it's a good idea for those who are interested in them to look for them rather than a more generic development job. Most of these jobs are still listed as "software engineer," so it takes reading the descriptions to learn the details. Here are some examples of current openings in WebRTC that were found under the heading of software engineer:
Developers needed to make an app that allows for instant access to translation services at a call center. Needed experience includes four years of hands-on Java experience. Experience with Linux, working with distributed teams, and collaboration is also required. Work experience with Salesforce, programming experience with C#, Swift, and Objective C, and experience with WebRTC and SIP are all pluses. Check out the positions that need to be filled at WebRTC Ventures!
Embedded software engineer needed to handle the camera/video aspects of an Android app in development. This person will design and develop multimedia features and video conferencing using WebRTC and IR94. The job also involves porting patches to different versions of the Android OS. Must have at least four years of experience with WebRTC, IR94, or related technologies.
Put a bachelor's, or preferably a master's, in computer science or a related field to work at a multidisciplinary company. Experience in WebRTC, SIP, H.323, T1/E1/ISDN or H.320 is a plus. Five years of experience in general communications protocols is required. These skills will be used in a videoconferencing project. Winning candidates will also need to troubleshoot using Wireshark and similar tools.
These positions show that it can be worth it to learn WebRTC as a separate skillset, but there are also opportunities for people who know one or more of the relevant subsets of expertise. No matter which category you fall into, it's a good idea to keep up with WebRTC news and updates. This will let you stay up to date on the latest developments and make yourself more marketable to those seeking people to work on their communications apps.
Contact us today for expert WebRTC developers that can help you build your application.