Webphones are web-based applications that allow you to make phone calls directly in your Internet browser like Firefox, Chrome, Safari and many more. Webphones can make and receive calls from traditional phones (PSTN, Public Switch Telephone Network).
The Real-Time Communications (RTC) capabilities also allows audio, video, messaging and file transfers in any heterogeneous device from smartphones to PC using the most modern Internet Browsers.
There are several alternatives to communicate from webRTC to traditional phones (PSTN), a sample of this communication is depicted in the below graph.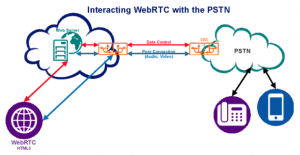 In simple words, the webRTC apps establish a bidirectional communication with traditional phones as having intermediaries that the session border controls and the PSTN, and for some data, controls a web server should also be part of this implementation. Obviously, the PSTN a PBX can be part of it.
The representatives of webphones are:
Twilio

Zoiper

OnSIP App

Mizu WebPhone

FluentCloud WebPhone

FireRTC
Twilio

Twilio Client enables web browsers and mobile devices to send and receive voice calls through a two-way streaming audio pipe. Software developers can incorporate communication features like live collaboration, softphones, web conferencing, and click-to-talk into their applications. End users will enjoy more immersive in-app experiences in browsers, smartphones, and connected devices. Every web and mobile application is now a phone.
Zoiper

Zoiper Web is a WebPhone designed to seamlessly integrate into your website and web solutions. It is fully-compliant with Internet Explorer, Firefox, Safari and Opera on Windows.
Zoiper Web allows unlimited concurrent calls and unlimited number of users. Zoiper Web comes with a smart user-friendly interface or with no interface at all.
OnSIP App

OnSIP App runs on Mac, Windows, Chrome, and Firefox. Unlike the other phones on this list, the OnSIP app does not require any downloads or plugins to operate. It can make voice or video calls at the click of a button. The OnSIP app can call the PSTN, extension dial, make SIP-to-SIP calls, and engage in video calls with compatible devices. The OnSIP app comes free with OnSIP. Customers are charged 2.9 cents per minute for PSTN calls.
Mizu WebPhone

The Mizutech webphone is a SIP client for browsers, implementing multiple engines to take advantage of the best available client-side VoIP technology across the majority of OS and browsers, including: Java Applet, HTML5/WebRTC, Native Plugin service, Flash and others covered by a simple to use universal API and customizable user interface templates.
FluentCloud WebPhone

FluentCloud WebPhone is an efficient and user-friendly solution meeting your business communication needs, right from a Google Chrome browser; it enables Call, SMS, and Fax, Multi-line functionality, Single click download – no additional plugins or software, and, utilizes a Visual Voicemail Box.
FireRTC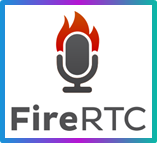 FireRTC is the way to go if you want free calling. It runs right within your browser via WebRTC, so you don't have to worry about installing or buying any unnecessary add-ons, and it offers free calling to the PSTN in the U.S., Canada, and Puerto Rico. Users are provided with contextual information about the person or business they are speaking with – such as where the caller is located in the world. Unlike the other phones on this list, FireRTC also offers call recording. The phone is available online, and the app is available in the Chrome Web Store.
Contact us
You have a number of webphone representatives to choose from. Clearly outlining your specific requirements and business needs will help you narrow down the list to find the right fit for you. At WebRTC.Ventures we have the experience and expertise to help you with the deployment of Webphones according your requirements and needs.  Contact us today!