WebRTC Webinars
Join our mailing list using the form in the right sidebar to find out about our next webinars on WebRTC. We regularly discuss topics around telehealth, remote education, broadcast events, web and mobile applications, and more. Check out our past webinars archived below.
WebRTC Live Episodes 30-37
Last summer, we announced WebRTC Live, a relaunch of WebRTC Standards. When WebRTC Standards founders Dan Burnett and Amir Zmora needed to move on to other projects, we were delighted to continue their work. Hosted by WebRTC.ventures CEO and Founder Arin Sime, WebRTC Live is a webinar series about the latest use cases and technical updates to the popular coding standard for live video.

Each episode is about 15 minutes and includes a guest interview, making them easily digestible nuggets of WebRTC wisdom. Click here to watch Episodes 30-37 of WebRTC Live. Join our mailing list to be the first to know about upcoming WebRTC Live episodes and the latest news in WebRTC!
WebRTC Standards Live Q&A Session
"Selecting the Right Strategy for Your WebRTC Project"
WebRTCStandards asked our company's Founder & CEO, Arin Sime to present on "Selecting the Right Strategy for Your WebRTC Project" during their last Live Q&A Session held on November 13th.
Sime addressed the following questions: What's the best option for your project? CPaaS or on-premise? Should you choose an open source platform or go for a commercial solution? Should you base your decision only on cost?
There's not just one answer.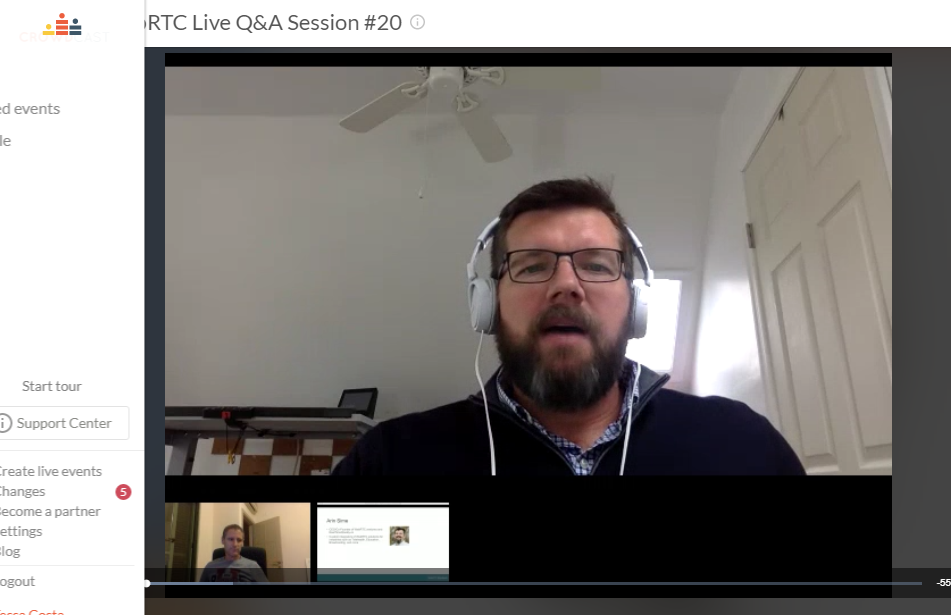 Click here to watch the webinar replay. To read the associated blog post, click here.
The WebRTC Data Channel with Greta.io
Arin Sime of WebRTC.ventures and RealTimeWeekly host Dennis Mårtensson, the CTO and co-founder of Greta.io. Dennis and his team at Greta.io have built a Peer-to-Peer Content Delivery Network based on the WebRTC Data Channel, allowing their customers to install a simple bit of javascript on their sites and then start sharing the content on the site across the world between other viewers of the site. This WebRTC based CDN allows their clients to reduce costs of serving the images and video on their site, and at the same time improve their performance under heavy loads. Dennis explains how Greta works and provide us with technical insights about what they have learned about using the WebRTC Data Channel.
To see additional links from the webinar, check out this blog post at our free newsletter RealTimeWeekly.