WebRTC.ventures News
Join our mailing list (see the block on the right) to be the first to find out about WebRTC news and events.  You can also get webRTC tips and tutorials sent right to your inbox.
WebRTC Ventures — a provider of custom, real-time applications with video, voice, and data exchange — today announces the hiring of Ginger Germani as its Director of Telehealth Accounts.
"From conversations with our clients, we know that there is a  rapidly growing need for telehealth solutions. Healthcare professionals are realizing this immediate need but don't want to wait months and months to offer a finished telehealth product. So, WebRTC.ventures has developed and can license an already-built telehealth platform which can be easily customized and quickly released to market", Arin Sime, Founder and CEO of WebRTC.ventures said. "Ginger will lead our Telehealth account sales, and is responsible for outreach to medical and mental health clinics or organizations who are looking to expand their reach and impact, as well as improve care, through our secure live video solution."
Germani joins the WebRTC.ventures' team with a degree in Economics from Randolph-Macon College in Virginia and over twenty years of experience in relationship based, custom business solutions from marketing to commercial lending. She seeks to leave everyone she meets, either personally or professionally, better informed and on a successful path.
With two sons suffering from varying degrees of mental illness, Germani has spent years navigating mental health care. In 2017, Germani's oldest son, age 19, lost his battle with depression and anxiety to suicide. After his tragic death, she understood that her purpose in life is to use her skill set to change the landscape and accessibility of quality mental healthcare.
Are you looking for a custom real time video and audio licensed expert consultation platform to further support and engage customers? Are you looking for an already-built platform that can be easily customized and quickly released to market? If so, you are in luck! WebRTC Ventures recently announced a new product offering: an expert consultation platform which you can license under your logo and brand.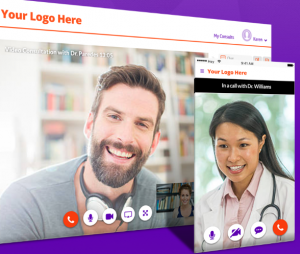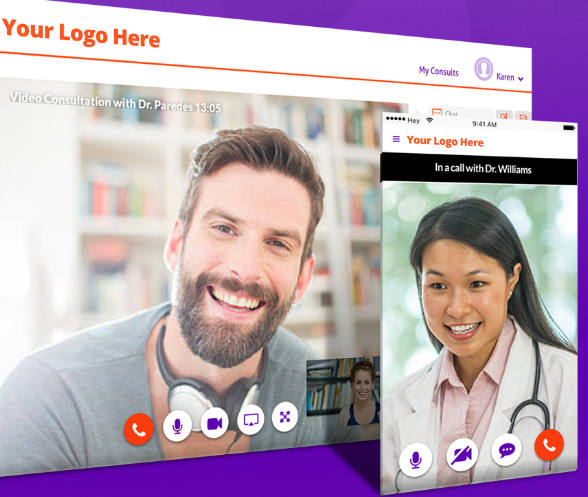 Do you have customers that you meet with in person?
Well, in this day-and-age, customers are looking for convenient ways to connect face-to-face no matter the place. Now is the time to give them want they not only want, but expect.
Maybe you are looking for an application in which you can host online appointments?
Are you in the one of the following fields?
Medical/Telehealth
Counseling
Legal
Accounting
Online Tutoring & Language Learning
and more….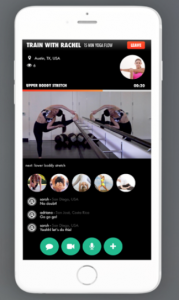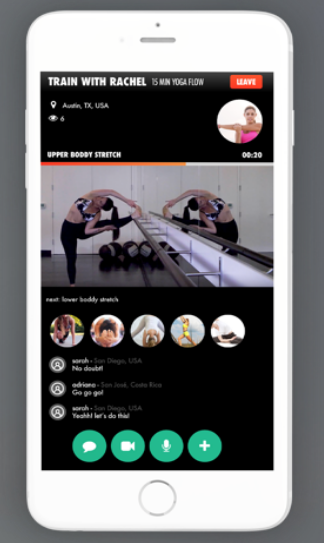 When Train-With's founder, Rachel Aram decided to create a platform which provides one the ability to take a group fitness class or train with a favorite trainer regardless of time and location, she turned to the WebRTC.ventures team to get professional help in developing and launching her mobile live video fitness training application.
Here's an example of how Train-With can be used — you are traveling, or you move to another state but still want to work out with your former fitness class or trainer, you can still do that remotely right from your tablet or phone.
"I had a lot of options of developers in the San Francisco Bay Area but wanted a cohesive team of experts in live streaming technology; so I chose webRTC.ventures", said Aram.
WebRTC technology was chosen for this application because Aram wanted two-sided, peer-to-peer capabilities. In other words, the participant can see the instructor and the instructor can see the participant. The instructor also has the ability to turn on the live stream and provide encouragement, suggestions, etc.
Therefore, finding a globally recognized team with much webRTC experience was crucial in order to successfully see Aram's Train-With vision come to fruition.
"I have been thrilled at the professionalism, expertise, and quality webRTC.ventures provided Train-With", concluded Aram.
Get on board the Video Consumption Digital Transformation. MySportsBox.video is a customizable application for sports channel networks looking for an alternative way to distribute sports video content and reach their viewers.
We saw an opportunity to build a better experience to watch video on-demand in a new way by building custom apps, on top of the leading platform in the market: Amazon Alexa.
Our app focuses on screen enabled devices which sports fans will love in order to engage with their teams and favourite sports!
Maybe you have heard about webRTC, want to get started but first, need to learn more? Well, we have created a free WebRTC Training & Tutorials eCourse just for you.
Each week of the series, you will receive an email to your inbox with a downloadable eBook written by one of our expert developers.
Click here to read more.
Our team at WebRTC.ventures often performs assessments and code reviews of Tokbox and other WebRTCbased applications, and callstats.io is a great tool to support those efforts. callstats.io is a great way to track any errors and performance statistics that your video app is having, and to diagnose those WebRTC related errors.
callstats.io provides many great integrations to WebRTC frameworks, and now we've partnered with them to build an integration to one of the most popular WebRTC CPaaS's out there: Tokbox. Our team at WebRTC.ventures works very closely with Tokbox and callstats.io on a variety of projects, and so it was a natural fit to build this integration.
Click here to read more.
As mentioned in a past post, 0ur WebRTC.ventures team of developers have participated in a number of TADHack events and even won coveted prizes and Awards  for our innovative telecom app prototypes…and we have done it again with our TADHack, privacy aware contact card- QrCall!
Click here to read more.
Here at webRTC.ventures, we like the quote "In the social age, knowledge is only powerful by sharing what you know" by Charlie-Helen Robinson.
So when Tsahi Levent-Levi  of  TestRTC asked us to work with him on testing how many sessions a Kurento server can hold, we were not only honored, but excited to help out.
Click here to read more.
Webrtc.ventures offers free email course on the future of video in healthcare and telehealth, examining the inherent security advantages of a telehealth application based on webrtc video technology.
Telehealth is gaining much attention lately due to its many benefits to both providers and patients like: reduced healthcare costs, higher quality patient care, easier follow-up appointments which lead to reduced hospital readmission rates, improved quality of life for patients and access to quality providers for remote patients… just to name a few.
Arin Sime, CEO of WebRTC Ventures  said, "We have been contacted by many companies interested in learning more about how to apply WebRTC video communications in telehealth applications, and so we decided to offer this email course to share the best practices that we've learned working with telehealth solutions in the US and Australia."
Click here to read more.
0ur WebRTC.ventures team of developers have previously participated in a number of TADHack events and even won coveted prizes and Awards in 2015, 2016 and 2017 for our innovative telecom app prototypes.
Teams are challenged to create a hack or prototype using sponsor telecom technologies to solve a local or global problem.
Our winning hacks included:
WebRTC.ventures' Winning Hack 2017- Telemergency Line App
WebRTC.ventures' Winning Hack 2016- Virtual Healthcare Triage App
WebRTC.ventures' Winning Hack 2015- Apple Watch Real-Time Emergency Communication App
Click here to read more.
We are proud to announce that WebRTC.ventures will host TADHack Global 2017 in Buenos Aires, Argentina.
In addition to Buenos Aires, this year's 2017 event will take place in over 30 other cities across the globe from September 22-24 and September 29-October 1.
Our WebRTC.ventures team of developers have previously participated in a number of TADHack events and even won coveted prizes and Awards in 2015, 2016 and 2017 for our innovative telecom app prototypes, but this is the first year we will be hosting.
Click here to read more.